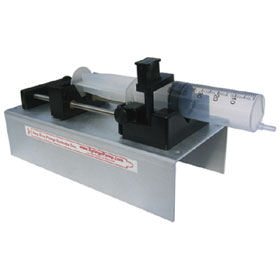 I thought I would put together a few words about NE-500 pumps and it's cousins the NE-4500, and the variations of this pump that are available.
These pumps are intended for OEM applications, that is to be built into newly designed equipment, and operated by software control only. They have no front panel display and no keypad, so you must use software to operate the pumps. SyringePumpPro will do that for you. They do have the ability to be triggered or to trigger other pumps and devices using their TTL input and outputs. So do non OEM pumps.
Lately it would seem that more of these pumps are finding their way onto bench tops, simply because of their incredible low cost and in combination with SyringePumpPro they are cheaper than the equivalent NE-1000 and other models. But you do need to budget for software to operate them.
Without the keypad and display, these economically priced pumps are simple to get connected to a computer and operating under software control. Once your up and running they perform magnificently.
Connecting an NE-500 Pump
First thing you will need are cables. Check you have the correct cables – USB-RS232 adapter, CBL-PC, CBL-NET are the ones you need. This link will help you identify what cables you have and is an important thing to do first.
Connect the cables correctly to make a pump network. The link has a diagram which shows you how to make the connections.
Communication parameters. There's no display on this pump – so you can't discover what communication settings have been set in the pump. Fresh from the factory, NE-500's are pre-configured for Address 0 and 19200 baud RS232 connections. This default configuration makes the pumps easy to connect. I recommend not changing the baud rate – or at least if you do – document that you have changed the baud rate. It's no fun trying to connect to a pump set to an unknown baud rate. Put a sticky label on the pump and write baud rate and address changes on it.
However, if your pumps have served a previous master (I am thinking here especially in school labs), they may have been configured to other addresses and other baud rates and you may have a little difficulty getting communications going. (I can help you with that – contact me!) Tip Connect the pump to your computer on it's own and let SyringePumpPro find it for you.
NE-1000 vs NE-500
I often am asked can I purchase and NE-500 and use it on the laboratory bench in place of the more expensive NE-1000. My answer would be yes but there's a couple of things for you to consider.
You will need a copy of SyringePumpPro to enter commands, and control the pump generally.
Whilst the open chassis is quite safe – the circuits run on 12V or in rare cases 24V, you must consider the possibility of your fluids entering the insides of the pump – they are completely exposed. It's my understanding that the circuit board is not available as a user replaceable part.
You must also make sure that none of your lab tools, fixtures and fittings are able to enter the underside of the pump.
There are exposed moving parts and a risk of pinching that could really be at the least painful and depending on what piece of you get's pinched and what model pump you have. Long hair inside the pump motor/pulley system would be quite a problem especially if it's still attached to your head and perhaps worse depending on whats in your syringe and plumbing. Is that a realistic issue – possibly not.
The NE-500 Family Comes in Several Variations
There are several variations of the base model idicated by their addtional features compared to the base model.
L models – long chassis
High pressure models
Stall detection
Linear flows and larger program capacity – via a firmware update.
All of which means you can get a number of versions of this handy pump. There is also the closely related NE-4500 series which really is only a 2 syringe version of the NE-500.
NE-500 series, NE-4500 manuals, and data sheets