"I just wanted to give you a big thanks for all the help over the summer. We have figured out our issues and I am even able to take what you have given us and add upon it, which is great for our purposes. So Thanks again for your patience and in the future I will gladly recommend you for pump programming."
Matthew M. Ali, Visiting Scientist, Bucknell University
Get to your results faster – have your pump program written professionally
There's no doubt these programmable pumps are clever devices. But it takes a quite a bit of time to learn the pump programming language.
If you have other things to do why not out source your pump program development to some one who works with the pumps constantly.
How To Get Your Pump Program Written
First plan your flows, think about rates and volumes. I realize if your experimenting you might not have firm ideas just yet. But remember the pump program has to pump something definite so make some starting approximations for us to work with. The rates and volumes etc can always be changed later.
Contact me and describe what you want your pump to do. There's no obligation and we can email about it for free.
I will send you a quote.
We can take it from there.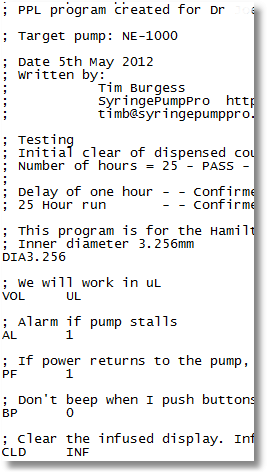 What Do You Get when I Write a Pump Program
Years of experience brought to bear on your project – now.

Pump Programs ready to use – fully tested – in days.

Documentation – The program listing is fully documented so that you may change the program to better suit your needs or evolve with your discoveries and development.

An install program. Download and run the install program and your PPL programs and documentation are placed in exactly the spot they need to be – for fast access – no hunting for files.
A pump programmer on your team – pay as you need.

A massive time saving in learning to program the pump and making all the mistakes that most newbies make.

A jump start – your developing or researching – you will need to make changes to your pump programs. Take the programs I write for you and use the comments I provide to make your changes – learn to program your pump at the same time as you are getting results!