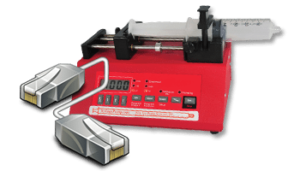 There are several cables that go with your pumps. The following table is a list of all the cables, their part numbers and their description and usage.
Part Number

Description

Photo

 CBL-TTL-1

This is a pump synchronization cable. For use with two pumps only.

It is used with pump programs to create continuous infusion systems and dual infusion systems.

You can use with your own custom pump programs to start and stop another pump.

Synchronize pumping direction of two pumps so that they change directions, start, and stop as one unit.

Utilizes the TTL logic port on pump.

Can result in more responsive pump reactions – no RS232 transmission delays.

CBL-PC-PUMP

CBL-PC-PUMP-7 (7 ft. cable)

CBL-PC-PUMP-25 (25 ft. cable)

 Used to connect from a USB-RS232 adapter to the first pump in your pump network.

 CBL-DUAL-3

Used for creating a continuous infusion system, dual infusion system, or one of the other 2 pump automation modes.

Alternative to cable CBL-TTL-1, unless the use of the TTL ports for synchronization is preferred.

 

Pump-to-Pump Secondary Network Cable

CBL-NET-7

CBL-NET-25

Used to connect second pump and subsequent pumps in a pump network.

 

RS-232 to USB Converter

CBL-USB232

 Connects to your PC via USB and provides modern reliable 9 pin RS232 port with buffering.
 
Need your pumps and PC separated by more than 25ft (7.6m)? Thinking of MRI users in particular.