Try SyringePumpPro!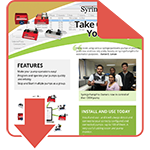 SyringePumpPro software takes control of your pumps, automates fluid flows, and thus repeatability. Save time by continuously monitoring pump operations. Single or up to 100 pumps. Automatic remote pump operations can be safer. Reduce wastage of expensive components and operator time.
Programmable pumps let you create a huge range of automated and repeatable fluid flows. External stimulus controlled, sinusoidal, ramping flows, reciprocating flows and much much more. The addition of a computer interface allows a fantastic range of abilities. What's possible and how is it done?
Different brands and types of laboratory and OEM pumps are supported. Pump Selection: What are the advantages and disadvantages of the different pump types? Learn more about syringe and peristaltic pumps here. What should you look for when purchasing a pump – new and second hand?