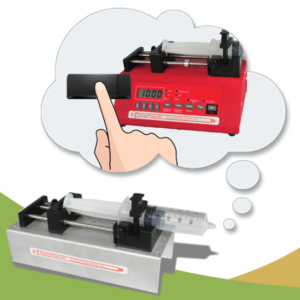 Here in Australia we play while the rest of the worlds sleeps, or so it would seem. When I get up in the morning the second thing I do is read my email. First thing?
This is when I get customers and potential customers asking questions. Questions about applications and problems. On of today's potential customers had a OEM style pump like the one pictured here – no buttons or display. The only option to control this pump is with a computer. He had one questions – which was:
OEM Pump – Do you need SyringePumpPro?
This was the question that faced me at breakfast email this morning. By the way these keypad less pumps are brilliant AND economical too!
TIP OEM pump + SyringePumpPro is much much cheaper than pump with keypad.
Here's my answer: So, my question is, can this be done without the software?  Yes! You don't need my software to do this. What do you think would be the best option if I have to utilize the software? You don't have to use my software. You need some software but you can get it free!
Here's where I tell you why you might part with your $ for my software.
In your application, think of SyringePumpPro as a configuration/setup/maintenance/monitoring tool for pumps. An essential tool for pump application development and those times when things need a little work.
Labview and Matlab users will tell you spend the money and save a ton of time.  Read on and you will see it for yourself
Your pump has no display – what is it doing? – The pump's tone has changed – now whats it doing? SyringePumpPro is displaying updated information constantly – no guessing or assuming what the pump is doing.

Yes it's moving but what volume did/has it dispensed? What rate? Is that what you programmed? Is the pump working as expected?
Microfluidic users – Where's my fluid going? Is the pump withdrawing or infusing?
For your application – indeed anywhere folks use a keypad-less pump, you need to write a little bit of pump code, you can't hit the start button – there isn't one! There's a programming spreadsheet included with my software that makes writing pump programs a lot easier.
Uploading your pump programs into the pump. You can do it via the keypad on ….. ah no you can't – no buttons. You do have to have my software to get your pump program loaded.
There are a couple of free offerings at the New Era Pump Systems web site. They will upload your program – but you will wish it were easier. Try them anyway. Depends a lot on how you cope typing long command lines.
Think of the time you will save with SyringePumpPro. Click upload, select the file – watch the pump program go in. Wait till you are iterating and fine tuning your design and you need to upload a pump program 10 times in a row… the time saved – $49? More than one pump to program?
Here's a quote from a soon to be customer in a similar situation to yours…. (2 days ago) I will also get two licenses for SyringePumpPro to be able to communicate with the pumps independent of LabVIEW (I recently built a system for conducting pyrolysis experiments based on LabVIEW and know the value of of having an independent means of  communicating with hardware).
---
A few days later – here's the customers findings: After playing with the pump and your software, it became apparent that I need the software to upload a single program and use the TTL I/O serial connection for a signal to start and stop (PLC). So, your reply makes perfect sense. It may take playing with a few different dispensing settings to get our pads coated properly with silicone though and that's where the $50.00 is a cheap solution.