The one that always works with pumps is this one known by distributors as CBL-USB232
The one I personally use and love is the one from Plugable. It's worked with me developing SyringePumpPro for the last 5? years  oh yeah – it's compatible.
Other Brands
You can purchase these from almost any local computer or office supplies store. Mostly they will work fine.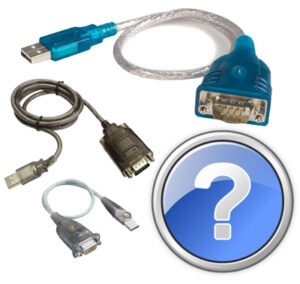 Generally most if not all of the USB-RS232 adapters will work.
Not all of these devices are of equal quality.
A cheaper device might cause problems with high serial traffic volume. SyringePumpPro with a single pump connected might work fine but with 5 pumps connected it can become unreliable or fail to cope.
I have found that these devices can stop working in the event of power disruptions. They simply die for no apparent reason.
These adapters have a tiny computer in them and they do fail from time to time. However interconnection cables are more likely to fail than the USB-RS232 adapters. Before deciding you need a new USB-RS232 device try disconnecting it from everything for a few minutes for them to completely power down. You can get lucky and have them start working again.
Driver software can be an issue with some adapters. Often they will ship with old driver disks, you should go to the manufacturers website and update to the latest drivers.
Some time ago there was an issue with clone devices and Windows delibrately blocked the clones from installing drivers. So if you grab an old one from a drawer that used to work – it might not anymore.