SyringePumpPro License Keys



All sales are final.
SyringePumpPro V1
License key is for the computer you nominate during licensing process.
License key via email – no internet connection required.
License key is not linked to pump serial numbers.
Connect any combination of brands/models of compatible pumps at the same time. Check if your pump is compatible, or ask me.
Once issued, the license key is consumed and cannot be moved to another computer. After the license key is issued the sale is final. License key will be destroyed if you format your hard disk.
That's fine! Download the trial on any computer. Copy the installer to a CD, USB stick, or network disk. Install from your media.
| | |
| --- | --- |
| Windows XP, 7,8,10 | Run in Mac Windows emulator |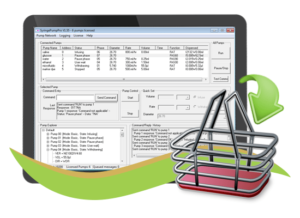 "I found SyringePumpPro to be easy to use, quite intuitive. It's simplicity. It doesn't require studying any manuals. I use it on and off. The plan here is to let the syringe pump users work with SyringePumpPro instead of manually configuring the New Era syringe pumps we have. It is helpful, especially when configuring/programming syringe pumps. Communications have not been a problem. The beep when connecting is great."
Mats Eskilson
Done shopping? View your cart and checkout.