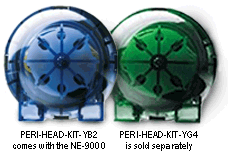 Just released today SyringePumpPro Peristaltic Precision update to support the release last week of New Era Pump Systems updated NE9000. The new Green head offers slower and finer flows and is now supported by SyringePumpPro.
This is a free update for all owners of SyringePumpPro.
Try users may install this update and receive a further day try period.
More about the update:
A new Green head is now available for the NE9000 and this permits slower flow rates with your applications. The PERI-HEAD-KIT-YG4 will enable a higher degree of precision dispensing. Over 10 times the precision level of our standard peristaltic kit. The PERI-HEAD-KIT-YG4 is a 4 roller 1/16″ID tubing kit for low volume, higher precision dispensing. Maximum dispensing is 100mL/sec. The PERI-HEAD-KIT-YG4 will dispense in discrete intervals of approximately .07mL.