For over 20 years, Kent Scientific Corporation has been serving medical and research scientists as a worldwide provider of integrated solutions for pre-clinical research and drug discovery advancement. You can choose from an outstanding portfolio of leading-edge products and proprietary technologies to meet your research requirements. To satisfy your technical and clinical needs, we have assembled an outstanding group of dedicated employees to provide you with superior technical support and clinical product training at your facility.
Kent Scientific Genie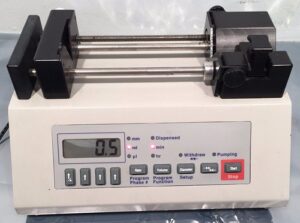 The original Kent Scientific Genie pump is no longer manufactured, they have a new model Scientific Genie, but you can find the old ones floating around ebay – but watch the prices! They are a re-badged version of the New Era Pump Systems NE-1000. They haven't been manufactured for a few years now, so the software in the pump is becoming dated and this means some of the newer functionality wont be there. However if you can find a pump in good condition, a little bit of a pump maintenance should see you get good use from it.
The Scientific Genie is fully supported by SyringePumpPro.
Kent Scientific Genie Plus
After the Genie came the Genie Plus somewhere around 2010.  Looking round the net it's hard to find any mention of this pump. The pump commands are different to the Genie and at the time of writing, SyringePumpPro does not support this pump. Looking for a manual for this pump?
A small change in the name but a big change in the pump! The folks at Kent Scientific decided to put their name to a Lucca Technologies pump. This pump uses a completely different command syntax which is currently not supported by SyringePumpPro. If your looking for a manual click here.
The pump programming manual is cryptic, yet the pump understands the concepts of animal weight, dosages and concentrations. Clearly it is targeted at labs working with animals which is Kent's specialty.
Pre-loved Kent Scientific pumps on ebay – Buyer Beware!
Before you buy one of these – do your research!

I am not personally recommending any of these pumps or their sellers to you.
What to look for when buying Used Pumps