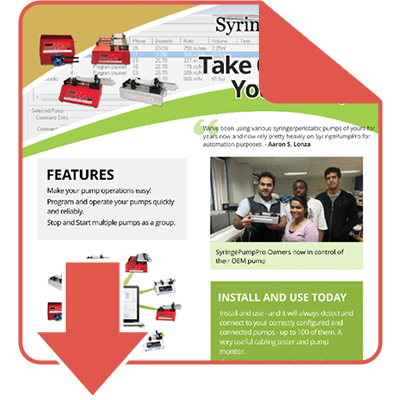 A new brochure was published yesterday – its on our home page. The brochure shows a screen shot of our laboratory pump control software aims to quickly give you an idea of what SyringePumpPro can do for your pump operations. Faster, more sophisticated, repeatable results in the lab.
What is included in the SyringePumpPro Brochure
There are links in the brochure for the customer to come and view tour videos.
A couple of customer testimonials which are linked to our Who's Using Page (showing the logos of companies using SyringePumpPro)
and our testimonial page full of kind words said about SyringePumpPro.
If you decide to purchase SyringePumpPro, you will also require cabling. Follow the link to learn all about the cables you need and there are DIY instructions for you to make your own cables.
SyringePumpPro license prices vary depending on the number of pumps to be controlled.
Pre and Post Sales Support
You have never encountered more dedicated support. Email the author of the software. We help people solve their laboratory infusion and peristaltic pump issues every day. We also have lot of other resources for you to access related to pumps. For example we have manuals, and drawings and technical content on our website.
If you have a question – please contact me direct timb@syringepumppro.com.