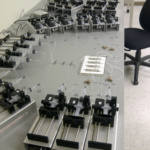 Here is a list of syringe infusion pump (syringe driver) and peristaltic pump manufacturers whose pumps are compatible with SyringePumpPro.
Micro-fluidic, peristaltic and infusion pumps can be connected at the same time.
You can connect one or more of each pump to a pump network and control your pumps using SyringePumpPro. You can also mix and match laboratory, oem, syringe infusion, peristaltic, OEM and multiple-syringe pumps all on a single pump network and control them with SyringePumpPro.
This means great control of your fluid flows can be achieved!